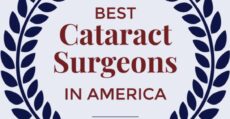 Rated by the American College of Elective Surgery, we are led by board-certified ophthalmologists who are members of the American Academy of Ophthalmology, and the American Society of Cataract and Refractive Surgery.
We have years of experience specializing in cataract surgery, and we'd like to share our lifetime of knowledge with patients everywhere so they can achieve the best outcome from their cataract surgery possible. We are patient advocates. Our goal is for every patient who is considering cataract surgery to have the best experience and outcome for their vision possible.
When performed properly modern cataract surgery is a miracle for most patient's eyesight.