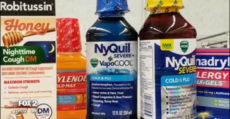 Imagine waking up to blurry vision and excruciating eye pain. Then your eye care professional says it's the cold medicine that you're taking causing a form of glaucoma.The condition can be brought on by a type of ingredient (anticholinergic) found in most cold and allergy medicines, even some antibiotics and anti-depressants. It causes your pupils to dilate, which can trap fluid between the iris and cornea, leading to the pressure and pain.
This can happen to anyone with the use of cold medicines, but it more often hits people in their 50s and older and people with what's called narrow angles, meaning a smaller area between the iris and cornea.
Take this as a warning from Dr. Khanjian this cold and flu season: "If you should be taking these kind of medications, or any other medication, and notice you are feeling pressure or discomfort around your eyes, you should stop it and see an eye care professional immediately"
Anytime you check a label on any prescribed or over the counter medicine and you see a warning that says "may cause serious eye complications", there is a good chance it is referring to what we described above.