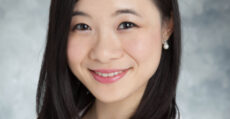 Our standards are high because you are important! We had to find someone who shared our deep love and appreciation for eyes, as well as someone who has the knowledge to provide excellent quality eye care that you expect from us. We are pleased to introduce the newest member of the California Eye Center team, Dr. Jennifer Chan.
Dr. Jennifer Chan grew up in San Gabriel Valley. She received her Doctorate of Optometry degree from Southern California College of Optometry at Marshall B. Ketchum University and her Bachelor of Science degree for Biochemistry and Cell Biology from the University of California, San Diego.
After optometry school, Dr. Chan completed her residency in Ocular Disease/Low Vision Rehabilitation at the Southern Arizona VA Health Care System, where she managed and treated a variety of ocular conditions as well as addressing visual needs and refractive error.
Dr. Chan is dedicated to providing quality eye care to patients and educating them about their vision and ocular health. In her free time, she enjoys traveling, hanging out with family and friends, and exploring food places.