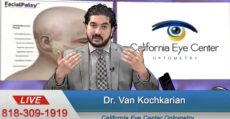 Dr. Kochkarian's quest to be become a health care professional began as a young child, where his frequent trips to his local optometrist foreshadowed his inevitable calling. He began his 10-year career in the eyecare industry as an optician, transitioning into an optometric tech, and finally as a Doctor of Optometry. His extensive experience has led him to develop a passion for treating those with special needs and patients who have experienced brain injury. Moreover, his experience with residents in nursing facilities has allowed Dr. Kochkarian to develop patience and compassion which is evident during his thorough and elevated eye exams.
Dr. Kochkarian received his undergraduate degree in Biology from CSUN in 2010. He received his Doctorate of Optometry in 2016 from Western University of Health Sciences. While pursuing his degree, he held many leadership roles including class president from 2012-2015, operations manager for the private practice organization, and served on multiple panels at various trade shows. Currently Dr. Kochkarian is a member of the American Optometric Association (AOA), California Optometric Association (COA), and the San Fernando Valley Optometry Society (SFVOS).
In his free time, Van enjoys going on adventures with his wife Ani, being outdoors hiking whichever trail is nearby, and adding to his photography portfolio.